Achievers Batch for Medical 2022-23
One Year Classroom Program is a very effective program for XII pass students towards NEET 2023. Emphasis on making the students imbibe the fundamental concepts of Physics, Chemistry & Mathematics and on sharpening their analytical skills which makes them capable of creatively resolving problems by mere application of basic concepts for a quantum jump in their performance NEET. This course begins with due emphasis on the basis and fundamentals of each topic focusing throughout on Medical Entrance Exams. This course comes with an option to elect only the weaker subjects they feel for NEET, no need to study all three subjects.
---
Objective
To build the base with focus on competitive exams.
Course structure and flow
The course commences from basic level of teaching Physics, Chemistry & Biology which enables students to perform in class tests and the level is gradually increased to NEET level. This gives confidence to students so that they can crack NEET the very same year.
Entrance
Based on score of NEETBased on Achievers Entrance Test.
Study Material
Scientifically researched, exhaustive and complete study material is given.
Workshops
Workshops would be conducted to increase the motivation level and to decrease the stress level time to time.
Frequency of Classes
Classes will be conducted 6 days a week for 5 and half hours on each day.
Testing & Feedback
GOAL is known for conducting the maximum number of tests for any of the courses including Foundation Course
• Fortnightly regular Classroom Tests
• Challenger Entrance Tests
• Spot tests
• DPP Tests
• AITS (All India Test Series)
---
1
You take the admission on the basis of your NEET marks.
2
Your classes start as soon as you get admission. (6 days in a week).
3
The course has been designed according to your need. You can opt Physics, Chemistry or both.
4
Your classroom & assessments through periodic/weekly tests continues.
5
Classes finishes in the last of January, 2022.
6
Your spot test starts in January, 2022 for Rapid fire revision along with AITS.
7
You do rigorous practice through D.P.P. from March to April.
8
You keep yourself in touch with the mentors of GOAL specially in last 100 days.
9
Your Pre-Medical Exam will be held in May 2022.
10
Your result will be declared in June 2022.
11
You Achieve Your GOAL and become a MEDICO in June 2022.
BASED ON GOAL ADMISSION/SCHOLARSHIP TEST (GAET) MARKS
Upto 100% SCHOLARSHIP ON TUITION FEE
| | |
| --- | --- |
| 10% or ABOVE | 5% |
| 20% or ABOVE | 10% |
| 30% or ABOVE | 15% |
| 40% or ABOVE | 20% |
| 50% or ABOVE | 25% |
| 60% or ABOVE | 30% |
| 70% or ABOVE | 40% |
| 75% or ABOVE | 50% |
| 80% or ABOVE | 60% |
| 85% or ABOVE | 70% |
| 90% or ABOVE | 100% |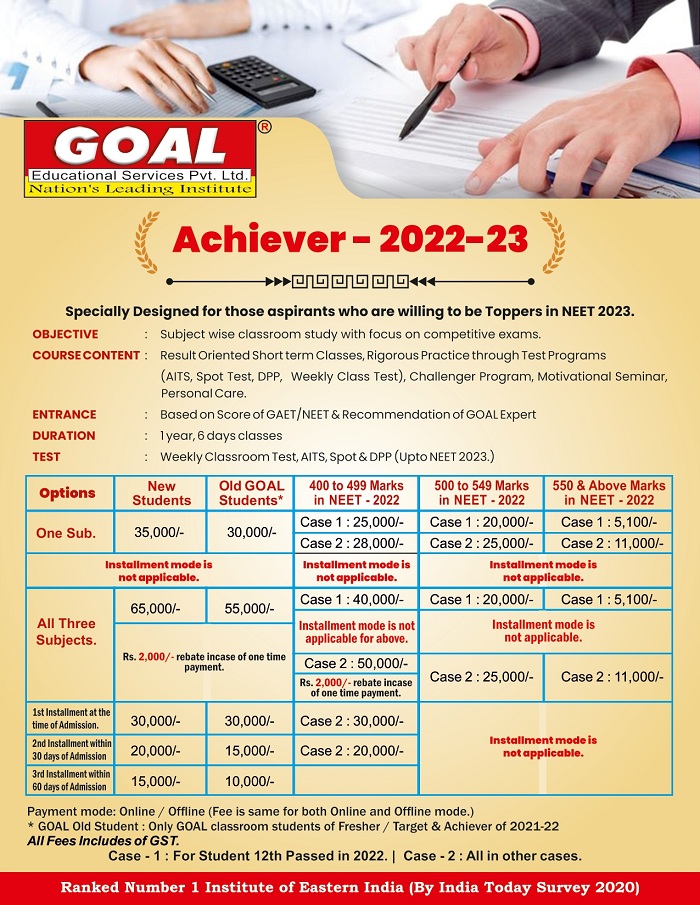 Online Course:
Click Here to Apply for All types of Online Course.